HP LaserJet Pro printers remote admin password extraction
Introduction
Some of the networked HP LaserJet printers have hidden URLs hardcoded in the firmware. The URLs are not authenticated and can be used to extract admin password in plaintext – among other information like WiFi settings (including WPS PIN).
The information below is for educational use only
Models affected
HP LaserJet Pro P1102w, HP LaserJet Pro P1606dn, HP LaserJet Pro CP1025nw, HP LaserJet Pro M1212nf MFP, HP LaserJet Pro M1213nf MFP, HP LaserJet Pro M1214nfh MFP, HP LaserJet Pro M1216nfh MFP, HP LaserJet Pro M1217nfw MFP, HP LaserJet Pro M1218nfs MFP, Possibly others(?)
Details
There are at least two interesting URLs, which can be accessed without authentication:
http://IP_ADDRESS/dev/save_restore.xml
This contains probably most of configuration paramethers of the device.
For example we have http password value here:

The password seems to be encrypted on the screen above… but wait, the value contains hex representation of the admin password in plaintext (!), ie.: 0x746573746f7765 is: testowe
In other words, using this method, the admin password can be extracted regardless of its complexity.
Other interesting paramethers (there are more than one hundred of them):
e_cloudPrinterID
e_cloudPrinterKey
e_StatusLog
e_CartNVRam
e_WifiStaConfig
If a printer is WiFi enabled, than some WiFi info can be obtained:
http://IP_ADDRESS:8080/IoMgmt/Adapters/wifi0/WPS/Pin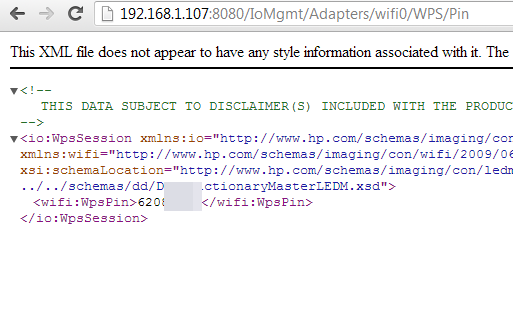 So we have WPS PIN here, and where to look for SSID? Yes, the previous save_restore.xml link (e_WifiStaConfig variable).
History
19.04.2013 vendor notified
19.04.2013 initial vendor response received
24.04.2013 issue confirmed
26.07.2013 new firmwares released
31.07.2013 issues summary published by vendor
02.08.2013 disclosure
 – michal.sajdak<at>securitum.pl